Weighing the Costs: Destination Vacation vs. Wellness Retreat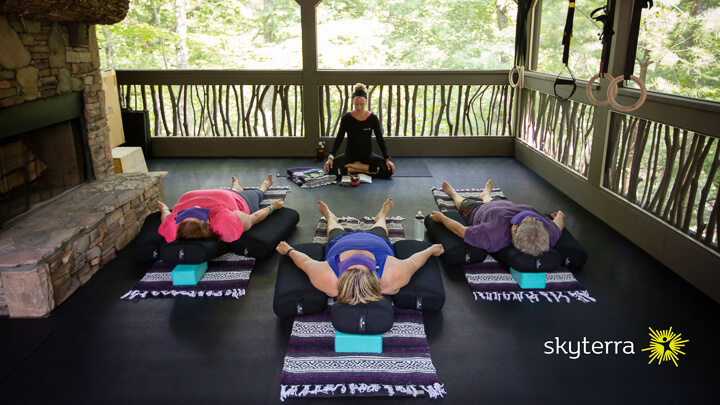 We receive many inquiries about our pricing. The good news? The weekly rates at our wellness retreat are all-inclusive, which means maximum relaxation and rejuvenation.
Once you're here, you have full access to our daily activities and classes, covering fitness, stress reduction, nutrition, outdoor adventures, and more. The only add-ons are optional spa services and additional consulting for after you leave.
Expenses: Skyterra Wellness Retreat vs. Vacation in Western North Carolina
For the sake of comparison, let's weigh the costs and experience of a stay at Skyterra against those of a trip to Asheville, the tourism hotspot closest to us.
If you want a trip that replicates the Skyterra experience as much as possible, here's a potential cost breakdown: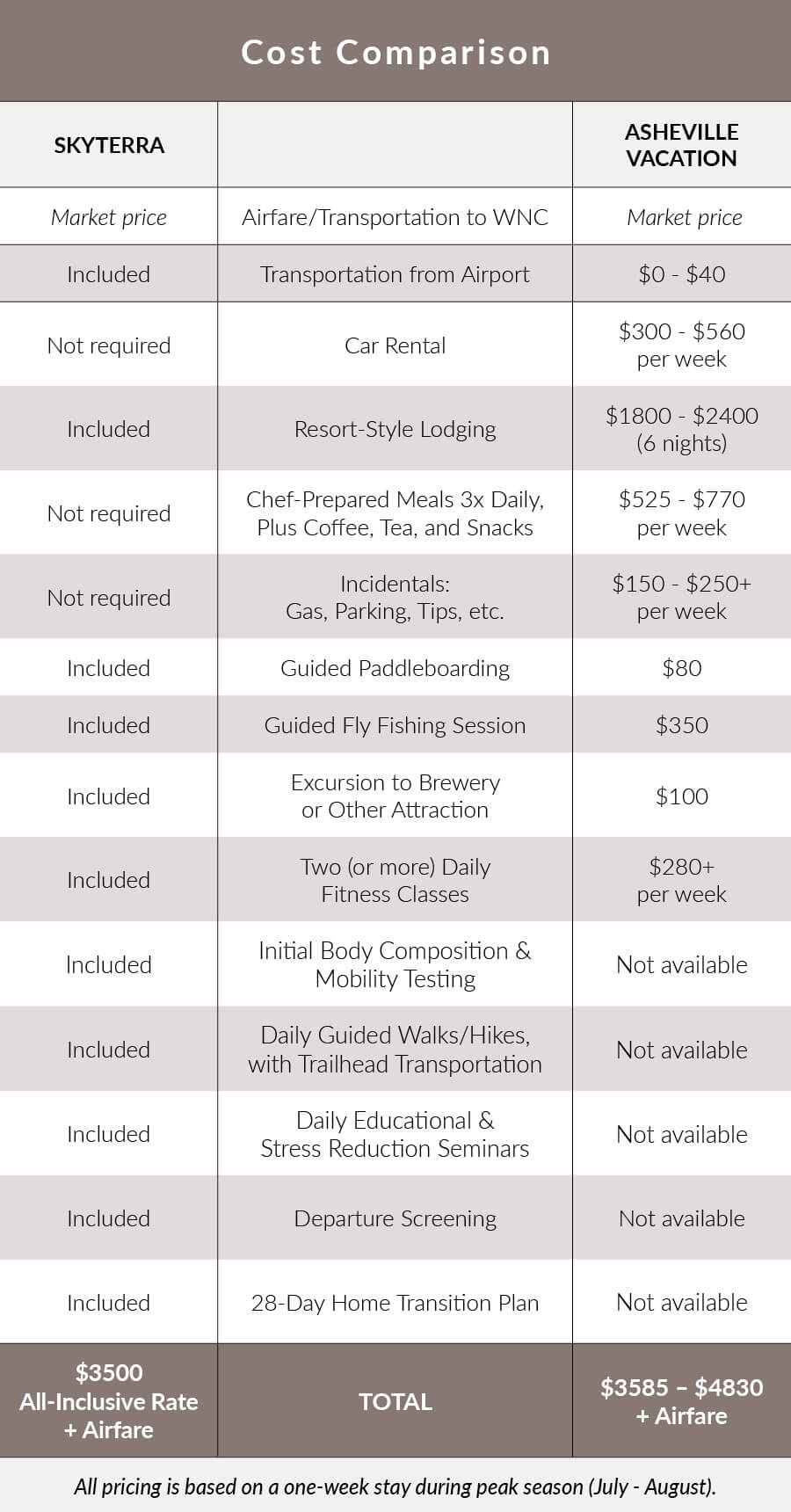 As you can see, our rates bundle premium accommodations and activities that could be much more expensive if purchased independently.
We've based these cost estimates on resort-level travel – the same level of accommodation that you'll find at Skyterra. Estimates were derived from Kayak, TripAdvisor, and local Asheville businesses.
The Value of a Wellness Retreat
In addition to a competitive travel package, Skyterra offers a combination of perks that standard vacations don't: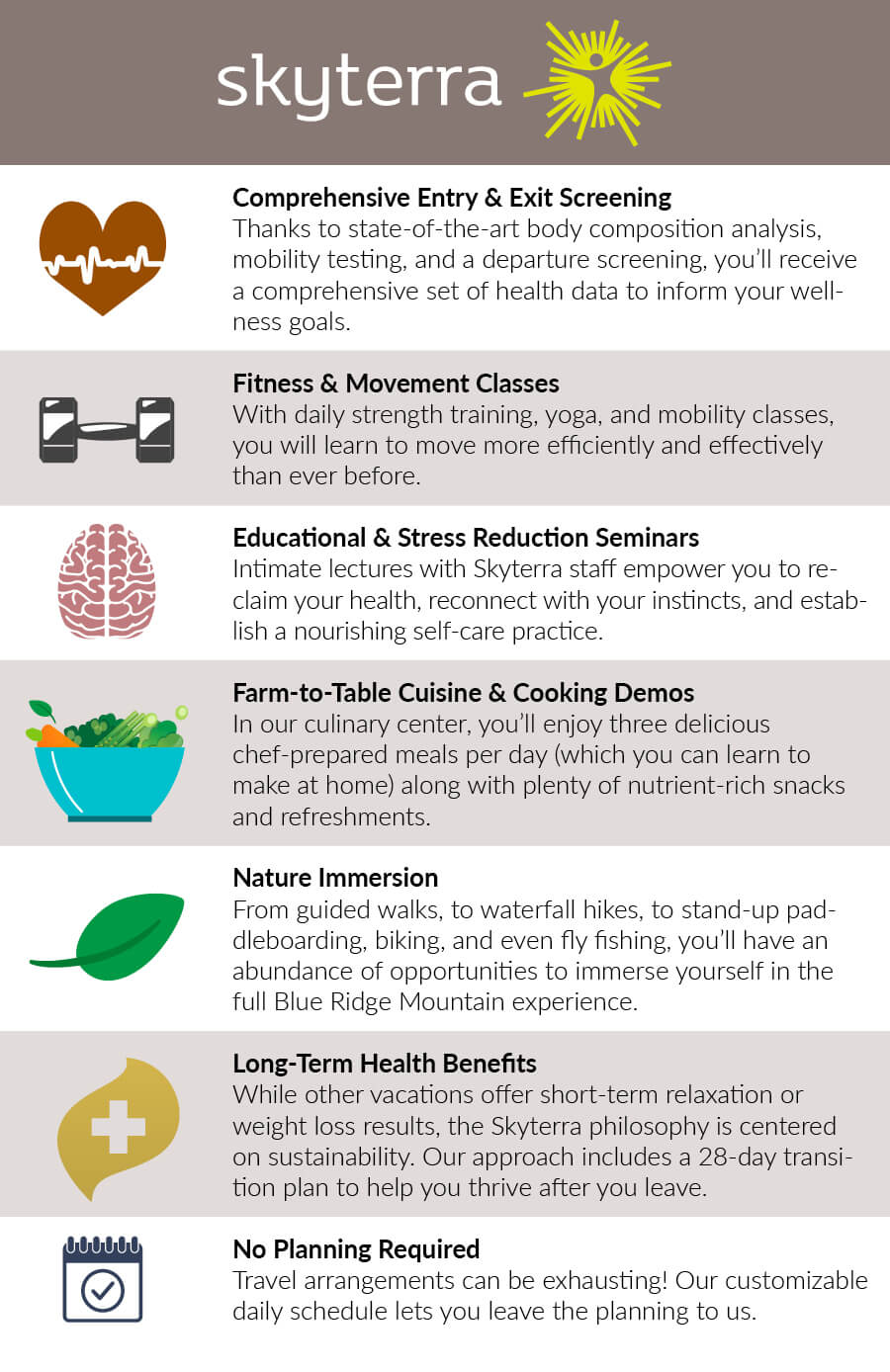 Many of us are willing to pay a premium for the most relaxing, rejuvenating vacation possible. If feeling good is your top travel priority, a wellness retreat may offer the best value for your dollar. 
A traditional vacation requires more planning, is less competitively priced, and is likely to derail your health and wellness goals. After considering lodging, car rental, meals, and drinks (purchased at tourist-town prices), you're usually spending a significant amount just for the essentials. Add on activities like massages, outdoor recreation, and guided tours, and that laid-back trip gets an ambitious price tag.
Does a weeklong escape justify this type of expense and planning? After all, it's not uncommon to return from a vacation and see you've gained weight or feel totally wiped out from late nights, festive drinking, and the exhaustion of getting around.
But there's an alternative: a vacation that bundles many of those travel-related expenses into one competitive flat rate, and eliminates the hassle of planning. Our wellness retreat offers long-lasting transformational effects that set you on a long-term path to looking and feeling great.