Discover the Nature of Health Spa Retreats
At Skyterra Wellness, we like to tune out the noise of daily life, and nowhere is that more relevant than in our nature inspired weight loss spa services. We take our cues from the serenity of the nature around us, whether it's the all-natural ingredients we use in our treatments or simply the song of the birds outside our window. Some of our treatments are even offered outdoors so you can feel immersed in the calming environment of our mountain haven.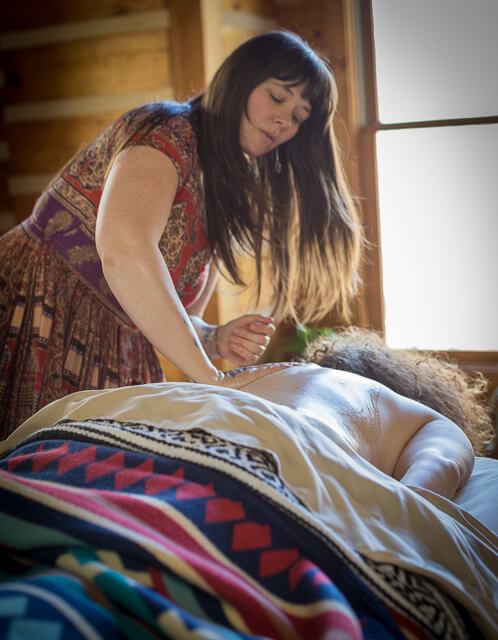 Personally Yours
Each of us has different goals and different challenges. That's why members of our Skyterra weight loss spas staff will ask you questions that allow us to tailor each treatment specifically for you. The result is a profoundly transformative experience delivered by deeply caring and highly trained specialists.
Abhyanga Massage with Warm Ginger Compress (90 minutes) $200

This service honors the changing seasons and supports the body's adjustment to a new cycle by creating a luxuriously warming service that is also highly therapeutic and healing. This full body massage with a warm oil scalp massage and follows with a full body massage. Warm sesame oil infused with mustard seed powder is coupled with a deeply soothing, supportive ginger steam ball compress that is worked around the joints and into the belly of the muscles.Heated ocean stones are used throughout the whole treatment to maintain warmth and suppleness in the tissue. The session ends with a shower and the option of a skyterra blended vata balancing tea. This massage focuses on nourishing the Vata Dosha in Ayurvedic medicine; it grounds and warms the entire being.

Energetic Reflexology (60 minutes) $150

Incorporating techniques from the thai tradition, energetic intuition, and traditional reflexology mindful pressure is used on points in the feet, hands, and ears using a variety of tools to create a whole body experience. The use of essential oils, moxibustion, gemstones, and copper kansa wands makes this treatment a truly healing experience for body and spirit.

Fire Cupping Massage $150

This massage offers the deeply healing benefits of traditional fire cupping to support deeper work that has a tremendous benefit on many of our internal systems. Glass cups are placed in specific areas on the body with the intention of releasing fascia, moving stagnant fluid, promoting vibrant circulation, and aiding in the detoxification process. The session includes deep massage work along with Gua Sha and reflexology.

Head, Neck, and Shoulder Massage (60 minutes) $150

This treatment is a profound way to soothe and nurture the nervous system. With an emphasis on the upper body, herbal oils, aromatherapy, and gemstones are incorporated with marma point therapy, luxurious warm oil head massage, a lymphatic gemstone facial massage and precise work on the neck and shoulders to create a deeply healing experience

Lymphatic Drainage $100

This massage is a fluid and relaxing service aimed to promote the proper the balance of the lymphatic fluids of the body.

Sacred Stone Massage (75 minutes) $200

This massage is truly a journey into deep states of tranquility and ultimate relaxation. Our stones have been carefully selected from the shores of Atlantic Ocean off the coast of Rhode Island and elevate this service to a sacred experience. Warm oil is massaged into the body while stones of varying size and weight glide over the body. Additionally, stones will be carefully placed and covered with sandbags on specific areas of direct need and attention. This treatment, known throughout spas the world over, is elevated to a whole new experience by honoring the sacred powers of ancient stones.

Signature Massage (60, 90, or 120 minutes) $100 / $150 / $200

Our signature service is an integration of soothing massage modalities to ease the recipient into a deep place of inner peace. Each service is complemented with warm towels and signature Skyterra aromatherapy blends.

Skyterra Deep Tissue Massage (60, 90, or 120 minutes) $100 / $150 / $200

Our signature deep tissue massage works to heal areas of tension and chronic pain. These sessions are more specific to a particular region and will not always incorporate the entire body, instead focusing on the areas of the greatest need. When booking, you can request an emphasis on shoulder girdle, hip girdle, upper body, or lower body. If you are unsure of the exact route to take, our therapists will do a thorough overview of your body's pain patterns and develop a treatment that is best suited for your needs. Each session is complemented with our signature muscle and joint salve, warm towels, and if needed, cold compresses.

Thai Yoga Massage (75 minutes) $150

Thai massage is grounded in Metta meditation guided by the principles of loving kindness. When one receives this work you and the therapist are in harmonious movement that opens our entire body through compression and stretching. It is a work that brings not just peace in the body but also peace into the mind. This session is done fully clothed on a mat that rests on the floor with plenty of bolsters and pillows available to maintain alignment and comfort in the body. Please note that to receive the full benefits of this work the recipient should have healthy flexibility in the knees and hips as there is a large emphasis on opening the lower region of the body. If you have issues we can adapt but please let us know when booking. Also wear loose comfortable (preferably cotton) clothing.
CranioSacral Therapy (75 minutes) $100

This treatment is done fully clothed and utilizes light touch in specific areas to balance and harmonize the central nervous system and the fascia intelligence. It works to release deep imbalances from injuries and emotional holding patterns that have imprinted their reaction onto our bodies. It is a powerful and non-invasive therapy that engages the body's natural healing response and can have tremendous effects on spinal misalignments, TMJ issues, birth trauma, headaches, and anxiety.

Chakra Alignment and Gemstone Therapy $150

This therapy clears and illuminates the patterns that have imprinted themselves into our energetic centers. There are seven main chakras of the body, each with their own governing intelligence. When there are blockages or stagnation within one, all are affected. Chakra balancing delves deep into our belief patterns and ancestral influences to understand why our life develops in the way it does. The result is to open up the healing channels to clear negative energetic functioning so that we may have clear perception and sight to our purpose and agreements in this life.

Energy Bodywork $200

Description coming soon...

Reiki (60 minutes) $100

Reiki is a form of energy healing that originated in Japan that translates to universal life energy. It uses very light touch to balance and harmonize the energetic body while creating a sense of peace and overall well being.